Best Sellers
Square 2 Chronograph [39mm] - White
Assembled in Canada
Free shipping on orders over $100
2 year extendable warranty
Free returns
Square Case Design
Inspired by classic "rally" watches of the past, the Square 2 Chronograph features a striking, square-case design with a blend of brushed and polished finishing. Stepped pushers and meticulous attention to detail make this watch a stand-out. A special, quadruple o-ring crown and screw-on caseback ensure a reliable 100M depth-rating. The elegant dial design and precision 2-eye Chrono movement provide a unique combination of form & function.
The Essential Chronograph
The Square 2 Chronograph gives you classic analog stopwatch functionality without unnecessary complication. At the touch of the start button, you can time everything from laps on the race track to the pizza in the oven. The red-tipped centre-second hand tracks seconds on the main dial, while the 60-minute register on the left sub-dial tracks minutes. (The right sub-dial displays the time of day on a 24-hour scale.)
Reviews
Customer Reviews
Write a Review
Ask a Question
06/09/2022
Ian T.

United Kingdom
I recommend this product
My new favourite...
Love the look, love the feel, love the attention to detail and quality. The price is great as well. This watch, for me, looks and feels like it's worth a lot more. Was looking for something a little more stylish so bought the Square 2 with blue dial/strap and ordered a perforated black strap to mimic my once owned Tag Monaco. There are obvious design similarities between the Square 2 and the Tag watch. I'm more than happy with the purchase and if they ever made a black dialled version with a simpler face and not a chronograph, I'd buy one tomorrow. Maybe even an automatic version, again I'd buy one also. The strap is comfortable though a little stiff when new. My only issue is I wish there was a clasp deployment option in the straps so I could keep the Momentum logo on the clasp. I suffer from Parkinson's disease so my hands aren't great and a clasp option would've been great. But still love the white stitching detail on the black strap. I looked everywhere for a blue dialled watch that I liked. Came close to buying a Longines, a Tissot, another Seiko, a Hamilton among others but so glad I chanced upon the Momentum Square 2. Delivery was first class. Delivered before specified arrival date. It has been in my wrist since arrival and have had 6 comments in 2 days. All comments were positive and everyone liked it's classy and detailed styling without being blingy or over bearing. I alternate this between my Seiko SKX013 of 13 years and a CWC military watch of 14 years depending on what I'm doing. I hope it serves me well as it's gonna get worn A LOT!! Thanks again for a great product, great service and s beautiful timepiece.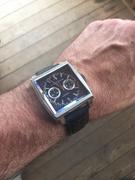 Excellent watch
This square choreograph is an excellent watch. This is my 7th Momentum watch and all of them have superior quality and durability. I baught my first Momentum watch in the early 1980s, and have enjoyed all of them. I've worn my first Momentum diver for dirty. Sweaty abusive yard work for over 30 years. Buy one!!!
Monaco Homage?
Great homage to that square racing chronograph that started it all. I love this watch. I think it's a great value. I didn't find the metal bracelet to be to my taste (nothing wrong with it per se), but I changed it to a light brown leather strap that I think suits this white dial version really well. It did have some sort of residue on the case when I received it, but a bit of eyeglass cleaner on a micro-fibre cloth and a few minutes of cleaning and it came off. No big deal. The white dial version has nice contrast between the hands and dial, so it's easy to read the time. I'm not sure about the blue and black dials. I would like to see them in person. I almost went with the blue dial. It does look great, but I was worried about the lack of contrast with the hands in the pictures. The crystal is beautifully beveled and looks very cool. The hands seem to fall right on the markers all the way around the dial and sundials too. The date window is quite small, but still legible. Would have loved a magnified window, or no window at all, but it's fine. Overall, a great watch. People will definitely notice this on your wrist. Love the auto-racing vibe.